Teenpreneur – A Young Aspiring Entrepreneur and the Little Founders of the Future. Young Entrepreneurs and Millennials with Multi-Million Dollar Businesses…
This article is a continuation of the series of types of entrepreneurs, where this one is about the term teenpreneur.
Teenpreneurs are teen entrepreneurs or young people who start businesses. I've included a few young entrepreneur stories in this article, all of which are an inspiration.
Usually when teens want to earn extra cash, some mow the neighbours lawns, some will turn to washing cars, whilst others will get a paper round. However, there is a growing trend of teen entrepreneurs who are starting their own businesses instead, to earn extra cash.
For many, entrepreneurship is the new status symbol, and Tech Ventures are at the top of the pyramid. Young people in particular are interested in the new ways to make money, as they are encouraged by our many online technologies. Many times able to start a company with very little money.
In the coming years, we will get to know more teenage tycoons and young aspiring entrepreneurs than ever before, which tend to throw traditional and all too often very old business models off their spot.
The company-founder culture is firmly anchored in society both in the UK and the USA, and the "Young Startup CEO" has a real pop-star-feel to it in youthful circles.
From Teenpreneur to Silverpreneur
More and more young people are beginning to learn entrepreneurship at an early stage. They are turning to becoming a young business owner as a possible career option. For some years, for example, 'school companies' have been set up at many schools. They are committed to providing an early awareness for young people in entrepreneurship.
I know that locally, at Ferndown Upper School and other schools in Bournemouth, they encourage young innovation. Business-minded young people took on the enterprise challenge and received rewards for their efforts.
Whilst this article is about teenage entrepreneurs, it's worth noting that at the other end of the age spectrum, their older peers are also venturing into the entrepreneur field too. The average business founder is around 35 years young, but there has been an increase in the number of older founders in recent years.
The age of when you become an entrepreneur is not important, but mindset is.
How the next generation of entrepreneurs looks is not primarily an age question, but more one of their mindset. The most influential entrepreneurs of the future are probably not going to be in their twenties or thirties, but in their teenage years.
Even corporations now recognise that the promotion of entrepreneurial thinking is a good thing. This creates intrapreneurs in the workplace, and many times instead of leading to the feared brain drain, it helps to keep the best minds on board in the long term.
The young teenpreneur founders of the future
The following are some examples of the young teenpreneur founders of the future. These have changed the way we look at today's generation. They have turned their small yet unique ideas into reality, and have become successful young entrepreneurs.
Amiya Alexander – set up a mobile dance company…
Amiya Alexander is the CEO and Founder of www.amiyasdancebus.com. In fact this young entrepreneur from Detroit is not yet a teenager, as she is just 11 years old. With the help of her mother, she has transformed a used bus into a working dance studio. Alexander created a business plan that offers lessons on various dances, from Jazz, Salsa, Hip-hop and Ballet. Her small businesses is for other youngsters from the age 2 years to 12 years.
This unique business idea has generated revenue of around $10,000. Amiya Alexander came up with this idea, after a dream one night. What's great about this young-preneur is that she took action and turned her dream into reality.
Benjamin Kickz – the teenage sneaker king…
Benjamin Kickz is just 16 and from Fort Lauderdale, Florida. He is on the way to earn his first million, with an online shop for ultra-rare sneakers, sneakerdon.com. The sneaker king has famous clients who buy his rare sneakers too. These clients include rapper Travis Scott.
Focus on getting money and none will come ~ focus on your passion and you'll get rich.

Related: Types of Entrepreneurs, from techpreneur through to mumpreneur
Reading one of his Instagram posts, Benjamin writes 'The root of all evil ~ focus on getting money and none will come ~ focus on your passion and you'll get rich.'
Rachel Zietz – a Lacrosse equipment company…
Rachel Zietz is just 16 years old, but started her business at the age of just twelve. At the age of fourteen she attended the Greater Miami Chamber of Commerce. She was there in 2015 for the Entrepreneur Award for young professionals.
Rachel still goes to high school – is a typical girl-next-door. She was keen on learning about entrepreneurship from her mum and dad, both entrepreneurs themselves and running a point of sale system.
Rachel Zietz, another teen entrepreneur that turns to a passion to make money. Do what you love, and you'll never work another day in your life.

Related: What are the 9 entrepreneur characteristics to have in order to succeed?
From a passion to a successful business…
Zietz is a lacrosse player and is a passion she enjoys. So when she was encouraged to build her business around a need in her life, Lacrosse seemed the obvious choice. As I write this, it makes me think that these teen entrepreneurs could teach many older people how to start a business around their passion. So four years ago, Rachel started her online shop for lacrosse needs. A business called Gladiator Lacrosse.
She's quoted as saying: "It's not like work to me, it's something I enjoy and take pleasure in." That's the Holy Grail of business…doing something you love, and getting paid to do it. If you do this, you'll never work another day in your life.
The business offers gates, racquets and so-called "rebounders". The latter are racks that throw the ball back to the player as soon as they hit the net. An impressive record, as this year the business expects sales of two million dollars. She sources her products from China and she has learnt many business lesson along the way. Rachel was turned down by the Shark Tank entrepreneurs, so maybe now they are regretting their decision.
Mikaila Ulmer – a honey sweetened lemonade drink funded by Shark Tank Entrepreneurs…
Mikaila Ulmer is another pre-teen entrepreneur, as she is just 11 years old, but she has already landed a mega deal. Her brand "BeeSweet Lemonade" will be sold in 55 stores of WholeFoods across the USA. This deal was worth $11 million. Or to put it another way, one million dollars for each year of her life so far.
$60,000 seed capital from Shark Tank…
The $60,000 seed capital needed to get the business going was invested by one of the sharks on the Shark Tank program.
Her product is a honey sweetened lemonade drink, made to a 1940's recipe using flaxseed, handed down from her grandmother. Her thinking behind the name for the brand, and for using honey to sweeten the lemonade, was to save bees and to support beekeepers. For each bottle sold, the buyer is actively contributing to the saving of bees.
Mikaila Ulmer had an $11 million deal with her lemonade business at age 11…that's $1 million for every year on planet earth.

Related: Michele Romanow started her first business age 22 and at age 32 she has an estimated net worth of $150 million
Like some of the other teen entrepreneurs I've written about here, she is also keen to give back. She gives a portion of the profits she makes to the bee rescue foundation. A quote she uses is one from Albert Einstein: 'If the bee disappeared off the surface of the globe, then man would only have four years of life left.'
A very proud young business woman, especially when a very special glass of the BeeSweet Lemonade was served to the then US President Barack Obama.
Hart Main – has a candle business…
Hart Main was just thirteen when he came up with the unique idea of manly scented candles. His successful candle making business ManCans, is sold in nearly 150 stores across the United States. The idea of these scented candles sold in a soup can came about when he was teasing his sister. He was teasing her about how 'girly' her scented candles were that she was selling for a school fundraiser.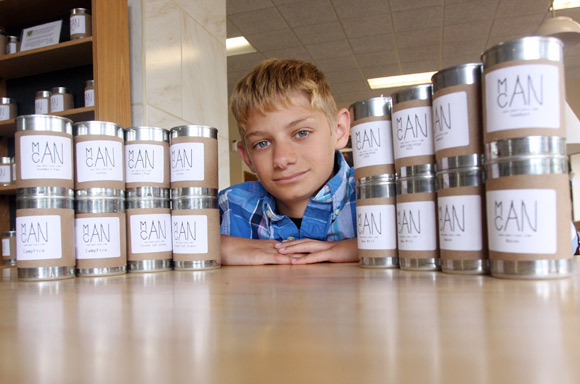 To begin with, the candles were made in Mains kitchen and were firstly sold to friends and family. But they soon became popular and are now made at Beaver Creek Candle Co. His original reason for wanting some extra cash, was to buy a $1,200 bike. However, he soon surpassed this target, and has since given money in charitable donations, and one in particular is $35,000 to soup kitchens.
Charitable giving seems to be a common theme amongst teen entrepreneurs.

Related: Multi-millionaire Tej Lalvani (new BBC Dragons Den Star serves others through charity giving
His teen entrepreneurial success has led him to co-write a book on how to start a business. This business book offers advice to aspiring teen entrepreneurs looking to do a similar thing.
Book 'One Candle One Meal by Hart Main…
The description on Amazon includes:
"Have you ever wanted to change the world? Have you ever wanted a little extra cash in your pocket? Both of these things can be accomplished by starting a business. But what if you're still in high school, or even younger? This is where One Candle One Meal comes in. Follow the journey of ManCans, started by a 13-year old Hart Main, from idea to a world-changing venture. Hart's story will show you that you're never too young to make a difference.

Hart Main, age 17, is a 2015 graduate of New Philadelphia High School in New Philadelphia, Ohio. Hart has gained media attention from local Columbus, OH television stations, a number of radio stations, has been highlighted in Family Circle magazine,The Lopez Tonight Show, PBS' Bizkids, and Nickelodeon's game show "FigureitOut." Additionally, Hart has received media coverage from various national media outlets including; Entrepreneur magazine, The Huffington Post, CNBC.com and USA Today.

He has also received a letter of recognition from Michelle Obama. Hart is a Junior Board Member of Independent Youth and had been an active participant in his high school's Cross Country and Academic Challenge teams. Outside of school, Hart umpires softball games at a local recreational league in New Philadelphia. He has also spoken at South by Southwest and frequently speaks at elementary schools."

At the time of writing there were five 5-star reviews on Amazon. Buy 'One Candle One Meal' book here. For full disclosure, this link to his book is an affiliate link, which means that I will get a commission if you decide to purchase his book.
Fraser Doherty – has a jam business and is known as 'jam boy'…
Fraser Doherty, a Scottish entrepreneur. He began his teen entrepreneur career in the kitchen. He was just fourteen when he started his jam making business in his grandmothers kitchen. Since these early teen business days, he has now become a serial entrepreneur and a motivational speaker too.
His amazing teen entrepreneurial success began when his SuperJam was listed in over 100 Waitrose stores across the UK. He then got them onto the shelves of other supermarkets like Tescos too. His SuperJam is known for being sugar-free, and can now be found around the world, and as far way as Australia.
Fraser Doherty has a similar giving-back ethos as teenpreneur Hart Main. He hosts tea parties for the elderly in care homes and sheltered housing in the UK.
Doherty's success has led him to win a number of awards. It has also brought about his writing a SuperJam cook book and a business book SuperBusiness, in which he shares his story. He has also written a book called 48 Hour Startup – from idea to launch in 1 weekend.
Fraser Doherty – Three books written, a contract with major supermarket brands across the UK, including Waitrose, and all in his teenage years.

Related: Youngest Dragon Den star aged 30. $150 million net worth. Woman in business Michele Romanow
Additionally he co-founded Beer52 with young entrepreneur James Brown. His co-entrepreneur James Brown was young when he began his first business, which failed, but unperturbed he moved on to his next venture with Fraser Doherty.
Ben Towers – has a digital media agency…
At aged just sixteen, Ben Towers has a workforce of 15 in his digital media business Tower Designs. Ben Towers is based in Kent in the UK and began his teen entrepreneur career helping family friends to build websites. In the early days he would charge just £50 to create these websites.
Since these early teen entrepreneur days, Towers now offers not just a web design service, but now provides a full online service for small businesses, and will even host small business websites too.
Invited to No. 10 Downing street as a young successful entrepreneur. Successful entrepreneurship is recognised by all.

Related: What it takes to become an entrepreneur. What are the most important characteristics?
Ben Towers has admitted that his age has held him back at times, and has lost contracts to businesses that think young people don't know what they are doing. However, this has not held him back, as he has a strong entrepreneur mindset, and he's now raising funds for Social Marley, which is a social media dashboard tool for businesses.
Like many other young entrepreneurs, Towers has received awards. One of these was for Home-based Business of the Year 2014 award.
Henry Patterson – Not Before Tea business…
Henry Patterson is just twelve years old and will become a teen entrepreneur in 2017, as he was born in 2004. His entrepreneurial path begun at the age of just five. His first money making venture was the sale of horse manure. After this first business he began to buy toys at car boot sales and re-sell them on eBay.
From teen-success to speaker. Henry Patterson is a successful UK entrepreneur selling his brands across 75 European retailers.

Related: Dragons Den Star Touker Suleyman – a retail giant with a net worth in excess of $150 million
However, the business which made him successful is his online shop Not Before Tea. He began by selling unusual sweets in jars, which is where the name originated. His grandma always used to say to him 'not before tea', which is something that my mum used to say to me also. His business now manufactures over 40 products and these are sold in over 75 retailers across Europe.
Since his teen success, Henry Patterson has begun a speaking career too and he is now keen to help other young entrepreneurs. For this he has set up Young & Mighty. He is also lucky enough to have met the entrepreneur that all entrepreneurs look up to, which is Sir Richard Branson. This is funny, as the Sunday Times headline about the young entrepreneur read 'Meet 'Baby Branson'.
What's the learning from teenage entrepreneurs?
Like the teenpreneurs and young business owners described above, there are many young minds who are trying their luck at becoming the next successful teen entrepreneur.
There are a number of things that people can learn from teenagers. For example, have you ever seen a teenager who didn't know exactly what they wanted? Just ask. It's mostly simple things – new designer jeans, meeting friends at the park or wanting to play the latest video game. Teenagers know what they want, and do everything they can to get it or achieve it.
Take a look at a teenager who wants to have a party. Teenagers plan weeks in advance. They lay the foundations for their parents to finally agree. So they seem to pursue their goals in a similar way. Mix this with one of their passions or hobbies, combine that with a flair for entrepreneurship, and you have a young entrepreneur in the making.
Teenagers are known for being stubborn…
Teenagers are known for their uncompromising stubbornness. If they want something, they do everything they can to achieve it. The word 'No' simply spurs them on yet more. A 'No' is an additional reason to fight against a word that adults use simply to prevent them from what they want to do.
Young people, and particularly teenagers, worry about their reputation. They spend a lot of time looking as good as possible, and often ask what the others think of them. This social consciousness has been magnified by Facebook and other social media platforms. Successful business people do the same. They build their reputation and look for the respect of their community.
Teen entrepreneurs understand the latest technology too…
Kids have the latest gadgets and know how to use them. But as adults, we are often unwilling to follow the latest technology breakthroughs or trends. Teenagers are very well networked, as they understand the benefits of social networking.
Who are the masters of viral marketing? Teenagers…put this to work in a business context and you have a good supply of customers. Teenagers are natural marketing geniuses. They take advantage of the power of the Internet and the latest technologies.
In today's internet world, anything is possible. Many teenagers are drawn to start their businesses, as they are inspired by their peers at an early age.
What great business concepts, products, services or experiences could you start-up as a company, to be the very next teenpreneur? Bring your idea into reality and begin earning money from it.
Finally please social share and comment below…
If you enjoyed reading this article about teenpreneur or teen entrepreneurs, please share. Choose your favourite social media channel below. I'd also appreciate your comments below too, and thank you for reading in-Business Blog.
Related: Types of entrepreneur – from sidepreneurs to authorpreneurs
Teenpreneur – An Aspiring Teen Entrepreneur